For this indication, competent medicine agencies globally authorize below treatments:
Intramuscular, 100 international units botulinum toxin type A, one dose, over the duration of 3 months.
Recommended needle: The injection needle should be filled (primed) with approximately 1 ml of the reconstituted botulinum toxin type A solution prior to the start of the injections (depending on the needle length) to remove any air.
Administration guidance: The reconstituted solution of botulinum toxin type A (100 Units) is injected via a flexible or rigid cystoscope, avoiding the trigone and base. The bladder should be instilled with enough saline to achieve adequate visualisation for the injections and avoid backflow of the product, but over-distension should be avoided.
The needle should be inserted approximately 2 mm into the detrusor, and 20 injections of 0.5 ml each (total volume 10 ml) should be spaced approximately 1 cm apart (see figure below). For the final injection, approximately 1 ml of sterile unpreserved normal saline (0.9% sodium chloride for injection) should be injected so the full dose is delivered.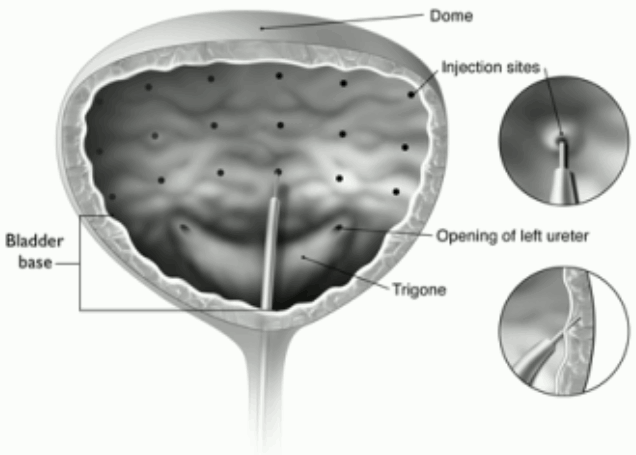 Recommended dose: The recommended dose is 100 Units of botulinum toxin type A, as 0.5 ml (5 Units) injections across 20 sites in the detrusor muscle.
After the injections are given, the saline used for bladder wall visualisation should not be drained so that the patients can demonstrate their ability to void prior to leaving the clinic. The patient should be observed for at least 30 minutes post-injection and until a spontaneous void has occurred.
Patients should be considered for reinjection when the clinical effect of the previous injection has diminished but no sooner than 3 months from the prior bladder injection.
The maximum cumulative dose should not exceed 400 Units in a 12-week interval.