Population group: Suitable for both men and women, only children (1 year - 12 years old) , adolescents (12 years - 18 years old) , adults (18 years old or older)
For this indication, competent medicine agencies globally authorize below treatments:
From 25 To 75 mg per m² of body surface area (BSA) once every day
The dose is governed by cautiously monitored haematotoxicity and the dose should be carefully adjusted to suit the individual patient in accordance with the employed treatment protocol. Depending on phase of treatment, starting or target doses generally vary between 25-75 mg/m² body surface area (BSA) per day, but should be lower in patients with reduced or absent Thiopurine Methyl Transferase (TPMT) enzyme activity.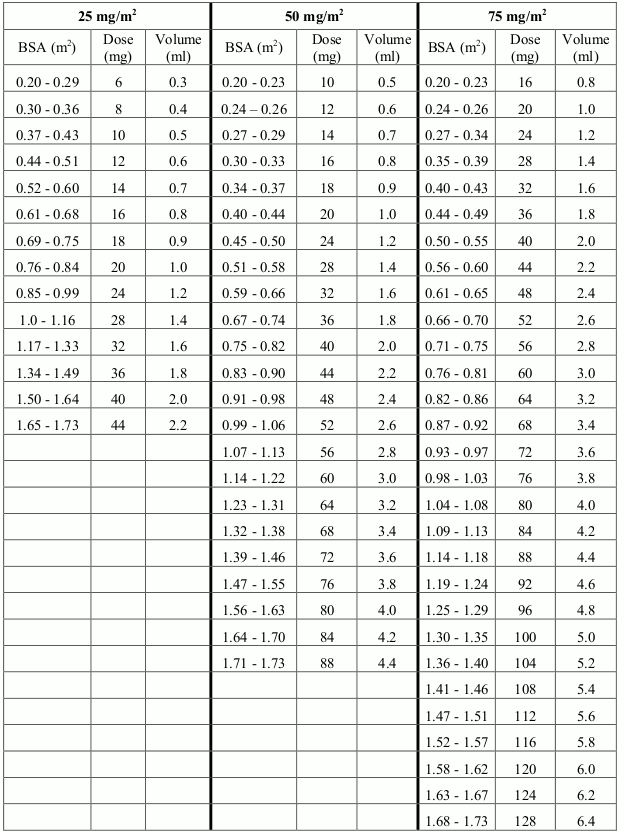 6-mercaptopurine is metabolised by the polymorphic TPMT enzyme. Patients with little or no inherited TPMT activity are at increased risk for severe toxicity from conventional doses of mercaptopurine and generally require substantial dose reduction. TPMT genotyping or phenotyping can be used to identify patients with absent or reduced TPMT activity. TPMT testing cannot substitute for haematological monitoring in patients receiving mercaptopurine. The optimal starting dose for homozygous deficient patients has not been established.
Mercaptopurine may be taken with food or on an empty stomach, but patients should standardise the method of administration. The dose should not be taken with milk or dairy products. Mercaptopurine should be taken at least 1 hour before or 2 hours after milk or dairy products.
6-mercaptopurine displays diurnal variation in pharmacokinetics and efficacy. Administration in the evening compared to morning administration may lower the risk of relapse. Therefore the daily dose of mercaptopurine should be taken in the evening.