LATISSE (bimatoprost ophthalmic solution) 0.03% is a synthetic prostaglandin analog. Its chemical name is (Z)7[(1R,2R,3R,5S)-3,5-Dihydroxy-2-[(1E,3S)-3-hydroxy-5-phenyl-1-pentenyl]cyclopentyl]-N-ethyl-5-heptenamide, and its molecular weight is 415.58. Its molecular formula is C25H37NO4.
Its chemical structure is: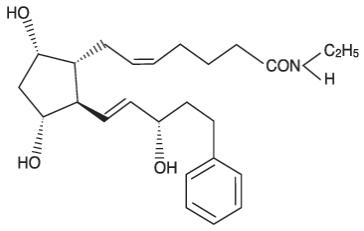 Bimatoprost is a powder, which is very soluble in ethyl alcohol and methyl alcohol and slightly soluble in water. LATISSE is a clear, isotonic, colorless, sterile ophthalmic solution with an osmolality of approximately 290 mOsmol/kg.
Contains:
Active: bimatoprost 0.3 mg/mL
Preservative: benzalkonium chloride 0.05 mg/mL
Inactives: sodium chloride; sodium phosphate, dibasic; citric acid; and purified water.
Sodium hydroxide and/or hydrochloric acid may be added to adjust pH. The pH during its shelf life ranges from 6.8-7.8.