URSO 250 (ursodiol, 250 mg) is available as a film-coated tablet for oral administration. URSO Forte (ursodiol, 500 mg) is available as a scored film-coated tablet for oral administration.
Ursodiol (ursodeoxycholic acid, UDCA) is a naturally occurring bile acid found in small quantities in normal human bile and in larger quantities in the biles of certain species of bears. It is a bitter-tasting white powder consisting of crystalline particles freely soluble in ethanol and glacial acetic acid, slightly soluble in chloroform, sparingly soluble in ether, and practically insoluble in water. The chemical name of ursodiol is 3α,7ß-dihydroxy-5ß-cholan-24-oic (C24H40O4). Ursodiol has a molecular weight of 392.56.
Its structure is shown below.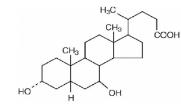 Inactive ingredients: microcrystalline cellulose, povidone, sodium starch glycolate, magnesium stearate, ethylcellulose, dibutyl sebacate, carnauba wax, hydroxypropyl methylcellulose, PEG 3350, PEG 8000, cetyl alcohol, sodium lauryl sulfate and hydrogen peroxide.