Hydrocortisone is a white to practically white, odorless, crystalline powder, very slightly soluble in water. It has the chemical name Pregn-4-ene-3,20-dione,11,17,21-trihydroxy,(11β)-and the following structural formula: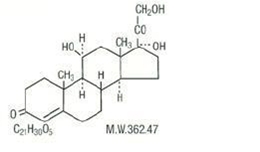 CORTENEMA is a convenient disposable single-dose hydrocortisone enema designed for ease of self-administration.
Each disposable unit (60 mL) contains: Hydrocortisone, 100 mg in an aqueous solution containing carbomer 934P, polysorbate 80, purified water, sodium hydroxide and methylparaben, 0.18% as a preservative.