ISOPTO Atropine 1% is a sterile topical ophthalmic solution. Each mL of ISOPTO Atropine 1% contains 10 mg of atropine sulfate monohydrate equivalent to 9.7 mg/mL of atropine sulfate or 8.3 mg of atropine. Atropine sulfate monohydrate is designated chemically as benzeneacetic acid, α-(hydroxymethyl)-,8-methyl-8-aza-bicyclo-[3.2.1]oct-3-yl ester, endo(+), sulfate(2:1) (salt), monohydrate.
Its molecular formula is (C17H23NO3)2•H2SO4•H2O and it is represented by the chemical structure: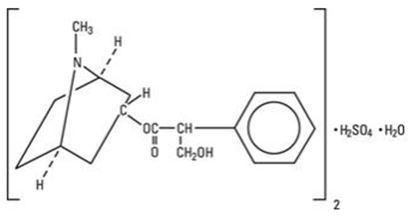 Atropine sulfate monohydrate is colorless crystals or white crystalline powder and has a molecular weight of 694.83.
ISOPTO Atropine 1% has a pH of 3.5 to 6.0.
Active ingredient: atropine sulfate monohydrate 1.0%
Preservative: benzalkonium chloride 0.01%
Inactive ingredients: hypromellose, boric acid, sodium hydroxide and/or hydrochloric acid (to adjust pH), purified water.